Mart Hill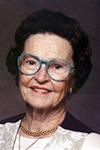 Contact Information
Department
Leadership Council
Mart Pierson Hill graduated from the Florida State College for Women with a bachelor's degree in English. While there, she was president of the College Government Association and chair of the Student War Defense Committee. She was a member of Phi Beta Kappa, Phi Kappa Phi, Alpha Delta Pi, Esteron and Mortar Board. In addition, she was elected May Queen. She currently lives in Tallahassee.
She has been awarded an Honorary Doctorate of Humane Letters, two Torch Awards, a Circle of Gold Award and a Distinguished Emeritus Award from Florida State. She is the former president of the Tallahassee Junior League, former president of the Tallahassee Museum of History and Natural Science, a member of the Florida Arts Council, and is one of the first members of the Francis Eppes Society.
Mart is the widow of the late Louis Hill Sr. and has two children: Louis Jr., a graduate of Davidson College and Emory University Medical School; and Almena Pettit, a graduate of Sweet Briar College and Boston University, where she earned a master's degree in business administration.