Kitty Hoffman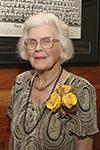 Contact Information
Department
Leadership Council
Katherine Blood "Kitty" Hoffman has given so generously of her time, talent and financial resources to Florida State University for the past 75 years that she was presented with an Honorary Doctorate of Science during the 2007 Annual Fall Meeting of the General Faculty. Her contributions to Florida State as a student, alumna, faculty member, administrator and benefactor have made her a living legend.
Though she retired from teaching in 1984, Kitty remains very active in the life of Florida State and the support of its students. In 1995, she and her husband, Harold, established the Katherine Blood Hoffman Endowed Fund in Chemistry, used to support chemistry and biochemistry students. Since then, Kitty has made several other contributions to the College of Arts and Sciences.
During her long tenure as a faculty member at Florida State (1940-1984), Kitty was witness to countless changes. Armed with just a master's degree (Columbia University, College of Physicians & Surgeons, 1938), she held her own in a field dominated at the time by male Ph.D.s, becoming a full professor of chemistry in 1973. She served as the university's last Dean of Women from 1967 to 1970.