John Crowe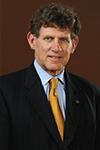 Contact Information
Department
Leadership Council
John B. Crowe is the retired chairman of the board and CEO of Buckeye Technologies Inc., a manufacturer of specialty fibers used in a variety of end products with international operations and sales. He served in that role from July 2006 until the company's merger with Georgia Pacific in August 2013. Previously, John served as the president and chief operating officer of Buckeye Technologies from April 2003 to July 2006.
He has more than 33 years of experience in the forest products industry and 28 years of military service, serving as an Air Force senior pilot and lieutenant colonel in Vietnam and afterward until 1997. John is married to Betty Williams Crowe, and they have two sons, a daughter-in-law and two granddaughters.
Currently, John serves on the board of directors of Myers Industries and the National Civil Rights Museum (2006-2017), and previously served on the board of the United Way of the Mid-South (2004-2013). He holds a Master of Arts and Science degree in mathematics from Florida State University and is a member of the Florida State University Sports Hall of Fame for football.