Jay Garner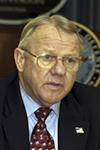 Contact Information
Department
Leadership Council
Retired Army Lt. Gen. Jay Garner's last active-duty assignment was on the U.S. Army Staff, where he served as Assistant Vice Chief of Staff of the Army.
A native of Arcadia, Florida, he graduated from Florida State University with a bachelor's degree in history. He later earned a master's degree in public administration from Shippensburg University in Pennsylvania. Jay's military service began with the Florida Army National Guard. He continued his service as an enlisted Marine and in 1962 was commissioned as a second lieutenant in the Army.
Jay served as commanding general of the Army's Space and Strategic Defense Command, headquartered in Arlington, Virginia. He also served as Assistant Deputy Chief of Staff for Force Development in the Office of the Deputy Chief of Staff for Operations and Plans, Washington, D.C.; Deputy Commanding General of V Corps, Frankfurt, Germany; Commanding General, Joint Task Force Bravo – Operation Provide Comfort, northern Iraq; and Deputy Commanding General of the U.S. Army Air Defense School. Jay commanded at brigade and battalion levels in VII Corps in Europe. He served two tours in Vietnam, in 1967-1968 and 1971-1972.
Jay and his wife, the former Connie Kreigh, have a daughter, Lori Gibson, and two granddaughters.