Ed Tunstall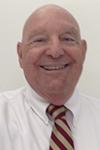 Contact Information
Department
Leadership Council
Ed Tunstall grew up in Panama City, Florida, and attended Florida State University, obtaining a Bachelor of Science degree in physics and math in 1964 and a Master of Science degree in engineering science in 1967. He later obtained a Ph.D. in engineering sciences from the University of California, San Diego.
Ed worked for the U.S. Navy in research and development, with his last position as director of Navy Laboratories in Washington, DC.
He worked in a private enterprise from 1991 to 2002, spending the last seven years of this time at Eli Lilly, a pharmaceutical company, as director of information technology. He then formed a consulting company in information technology.
Finally retiring in 2006, Ed now resides in Fleming Island, Florida, with his wife.