Blan Godfrey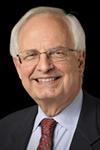 Contact Information
Department
Leadership Council
A. Blanton "Blan" Godfrey is the Joseph D. Moore Distinguished University Professor in the College of Textiles at North Carolina State University, where he previously served as dean of the college. He was chairman and CEO of the Juran Institute before becoming dean.
After receiving his Bachelor of Science degree in physics from Virginia Tech, Blan served in the U.S. Army. Upon completion of his last assignment as captain on a special project team in Vietnam, he returned to college, receiving a master's degree and Ph.D. in statistics from Florida State University. He next joined AT&T Bell Laboratories, where he became head of the Quality Theory and Technology Department. He also was an adjunct professor in the Industrial Engineering and Operations Research Department at Columbia University in New York, where he taught courses in advanced quality methods and management of quality at the graduate level for 19 years.
Blan has worked in more than 60 countries; published over 200 articles, books and book chapters; and received a number of awards in quality management and statistics. He is especially proud of two special awards, the "Grad Made Good" honor from Omega Delta Kappa at Florida State and the "Graduate of Distinction" designation from FSU's College of Arts and Sciences in 1993.