Student Spotlight: Daniela Castro
---
Student Spotlight: Daniela Castro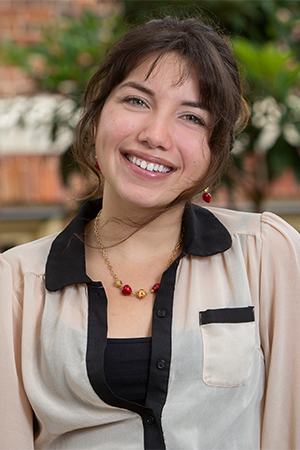 Daniela Castro, a Florida State University senior double-majoring in biomathematics and French, is the epitome of a compassionate scholar.
"In middle school, I saw a man in a wheelchair in the scorching heat, and I decided then that I wanted to make prosthetic devices and become a surgeon to apply them to patients because it tore my heart in two seeing this man struggle," Castro said.
A Hialeah, Florida, native, she realized early that making a positive difference in society is enriching. FSU's values and wealth of opportunities are what appealed to Castro's humanitarian heart.
"I loved the spirit of FSU, the diversity, the caring faculty ... I grew up humbly and have made it to where I am today because of generous people who have stepped in to my life, and that is what I want to be for others," Castro said.
As an honors student and member of FSU's highly selective Honors Medical Scholars Society, Castro has been able to conduct inspiring research.
In her freshman year, she studied with Susan Latturner, a professor in the Department of Chemistry and Biochemistry, who taught an Honors Chemistry II lab. Castro worked on understanding mass spectroscopy, an analytical technique used to identify the separate components of chemicals, and the flux method, a means of growing crystals for scientific experiments.
The experience was an addictive one, and Castro was left eager to find an opportunity for directed individual study.
"Dr. Monica Hurdal of the Department of Mathematics was willing to take me on," she said. "I worked with her and her graduate student, Carolyn Drobak, who taught me so much about computer programing, math and the brain. I learned about gray matter, how it is correlated to various diseases, and how biomathematicians can do something to help doctors and patients alike conquer their illnesses."
As much as she loves working within the realm of STEM, Castro felt as though she was neglecting her love of language and culture. Her minor in French turned into a double major after she was able to study abroad with the help of the Office of NationalFellowships and a Benjamin A. Gilman International Scholarship.
"After studying abroad in Paris, and realizing that I would graduate early, I decided to move the French minor to my second major! It was the best of both worlds. I could tap into my love of language and culture with my passion for problem-solving," Castro said.
She recognizes many professors who have served as role models. Postdoctoral scholar of French Anaïs Nony helped her apply to graduate school; Jeannine Murray-Román, an assistant professor of French and Spanish in the Department of Modern Languages and Linguistics, is helping her work on her honors thesis; and Mark Kearley, director of the Honors Program and a teaching faculty member in the Department of Chemistry and Biochemistry, has mentored her as well.
"I am just so grateful that these professors saw something in me and helped me grow academically," Castro said.
When she is not engaged in academics, Castro participates in community service as much as possible. She tutors with the Migrant and Refugee Education Alliance to teach English and also tutors with Student Athlete Academic Services. She has volunteered at Tallahassee Memorial Rehabilitation Center and is vice president of the International Justice Mission, an organization whose mission is to fight human trafficking.
Megan Gillman, assistant director of the Honors Program at FSU, says that Castro's heart is as big as her work ethic.
"I met Daniela in the fall of her first year at FSU," Gillman said. "As a new honors student, we met to talk about her plans and goals for her time in college. Even as a new student, Daniela was dedicated to her academics and exploring all of the paths that could get her to her medical school goal.
"She has continued to go out of her way to show her gratitude to those around her, both peers and mentors, and to give back through community service and philanthropy," Gillman said. "I'm truly impressed by the mark she has left on our campus."
As Castro prepares for life after graduation, she doesn't plan on slowing down at all. She hopes to earn a Fulbright Scholarship to travel to Colombia as an English Teaching Assistant; teach STEM classes to underserved students via Teach for America; and then pursue a master's degree in public health and a medical degree after that.