Faculty Spotlight: Michael Meaux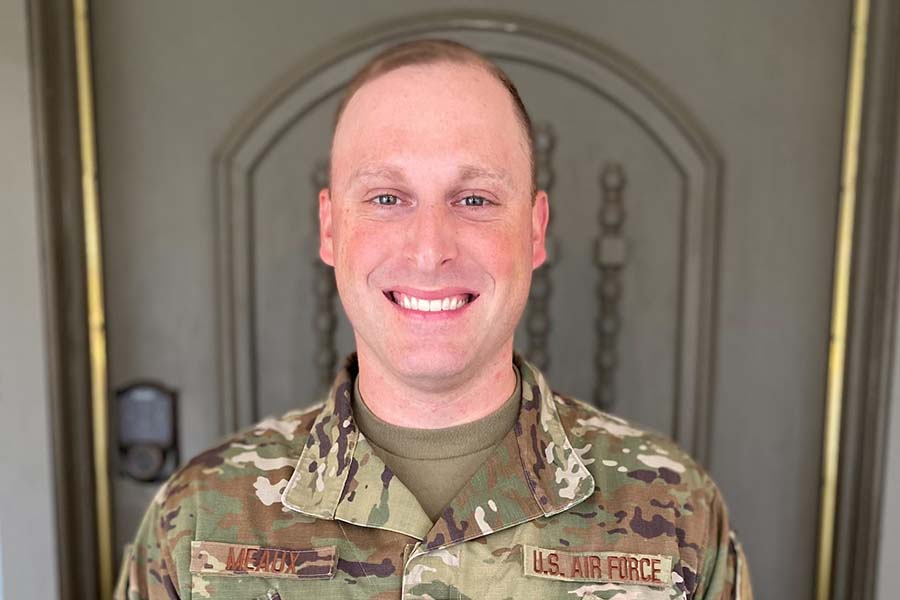 Air Force Capt. Michael Meaux is the education officer for Florida State University's Air Force Reserve Officer Training Corps Detachment 145 and also serves as a professor of military science. Meaux is an FSU alumnus who earned both his undergraduate and graduate degrees with the university. He was commissioned via Officer Training School in 2013 as an intelligence officer, and he previously served with the Air Force's Distributed Common Ground System, the National Security Agency and U.S. Cyber Command.
Tell us a little about your background.
I am originally from the small town of Crowley, La., but my dad was also in the Air Force, so we moved quite a bit. We were in Florida during my college years, so FSU was the perfect choice. After college, I received my commission via Air Force Officer Training School and began my career as a second lieutenant. I have been married to my wife, Ashlee, for six years, and we have two kids.
What is it like to work at FSU after earning two degrees here as a student? What are your degrees in?
It gives me great joy to be back in my old stomping grounds and to invest in the university's current students. My bachelor's is in communications disorders, and my master's is in public administration. I wholeheartedly believe my investment in cadets would be the same regardless of location, but I am very grateful for this opportunity as an alumnus. To see the cadets experiencing the Seminole lifestyle as I did gives me such fulfillment.
What led you to pursue a career in the U.S. Air Force? What types of work did you do?
From an early age, I wanted to follow in my father's footsteps and serve my country, and being an Air Force officer is my dream job. As a career intelligence officer, I have served in a variety of missions and roles. Intelligence officers lead teams who obtain, decipher and distribute the right information to the right person/organization at the right time to ensure that joint forces are able to conduct warfare in the most effective manner possible. Of note, I have worked with remotely piloted aircraft flying in Afghanistan and Iraq. I have also worked at both the National Security Agency and U.S. Cyber Command.
What is a typical day like as the education officer for Air Force Reserve Officer Training Corps Detachment 145?
My typical days include conducting physical training with cadets, teaching classes like Leadership Studies 1 and holding meetings with cadets for special projects or to provide feedback. I also coordinate special opportunities for our cadets outside of the standard curriculum. The standard curriculum itself consists of one of our academic courses similar to the one I teach along with a Leadership Laboratory consisting of our entire cadets corps. Leadership Laboratory allows our upperclassmen to develop fundamental leadership and management skills by leading/teaching underclassmen customs and courtesies, health and physical fitness, and drill and ceremonies.
What is your favorite part of working with the cadets at FSU?
I took this job to give back and to make a difference in the lives of our future Air and Space Force officers, so I very much enjoy sharing my experiences to help them prepare for their futures. One story I like to share is how I became an Air Force officer. The road to get here was bumpy and discouraging at times. It took me three attempts over four years to be admitted to Officer Training School and receive my commission. Don't give up on your dreams and keep pushing!
Who are your role models? Who has influenced you most in your life?
My dad is my greatest role model and hero. He was an enlisted Marine for 10 years and then earned his commission as an Air Force officer. He retired in 2009 as a major with 23 years of military service. My father has deeply influenced the person I am today.
How has COVID-19 impacted your work and the activities of cadets at FSU?
Our detachment has been fortunate to conduct a majority of our training and classes in-person since the very beginning of the COVID-19 pandemic. However, I have had my share of Zoom meetings and canceled events for precautionary reasons.
What do you want FSU students to know about becoming a cadet with Detachment 145? What should the public know?
FSU AFROTC is a three-to-four-year program that prepares you to become an Air Force or Space Force officer upon graduation. The program provides instant community with like-minded individuals, world-class leadership training and a guaranteed job upon graduating and commissioning. Students are able to join the program for up to two years without any obligation and can walk away at any time if they find it is not for them. FSU offers comprehensive, competitive Air Force merit-based scholarships that can be awarded to high school seniors or current university cadets, and these scholarships cover up to 100 percent of tuition and fees.
What experience has been the highlight of your career so far?
Working with ROTC cadets and giving back to these students is by far the highlight of my career. It has been a very rewarding and fulfilling experience. Specifically, I enjoy adding extra anecdotes and materials to the required classes I teach along with holding "ask me anything" sessions so cadets have an open forum for topics they are curious about.
If your cadets only learned one thing from you (of course, hopefully they learn much more than that), what would you hope it to be?
To be successful, an officer must truly and sincerely invest in those they lead. It is critical for the development of healthy teams and the success of Air Force missions. This includes getting to know them on a personal level, putting their interests first, listening to and empowering their ideas, hopes and dreams, and treating them with dignity and respect.