Collaboration cultivates cross-disciplinary environmentalism
---
Collaboration cultivates cross-disciplinary environmentalism
Environmental science student Allison Perez is getting her feet wet. No, not literally, but she is getting valuable experience in her field prior to graduation through her work with an interdisciplinary organization, Florida State University's Sustainable Campus.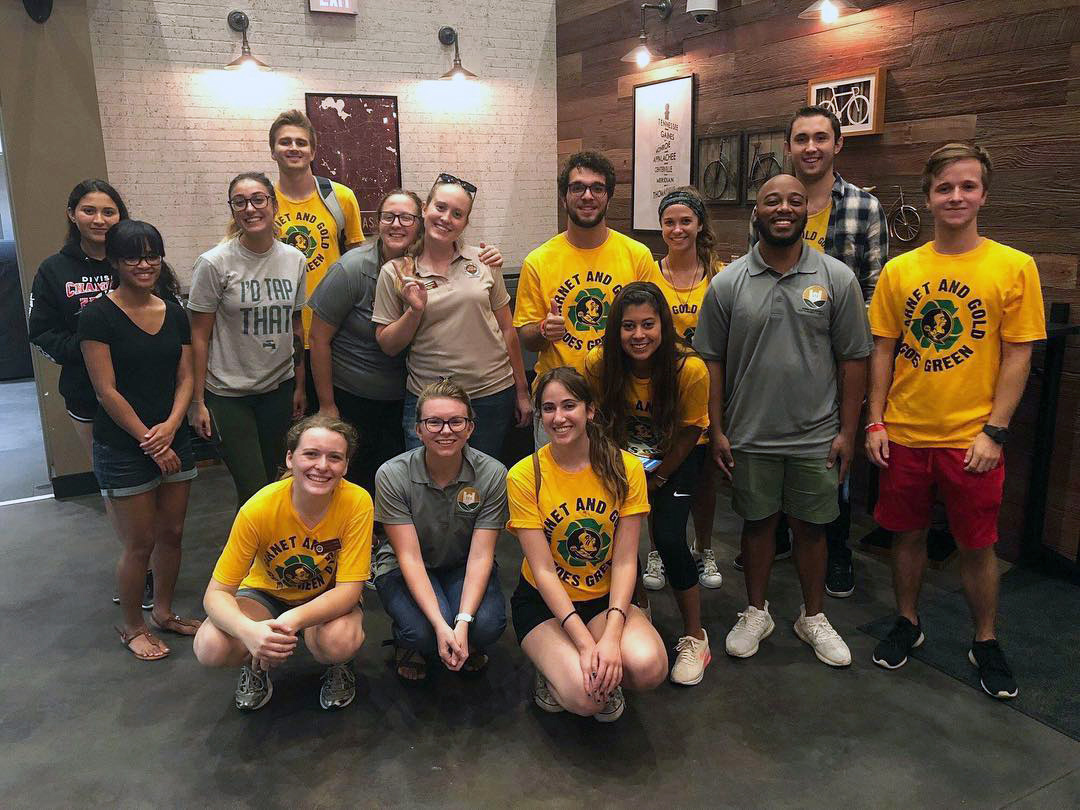 Perez is a student coordinator for Sustainable Campus' Take Back the Tap program, which is focused on addressing the global water and plastic-pollution crises. Through her work, Perez says, she is taking what she's learning in class and putting it into practice on real-world problems.
"My major and my role with Take Back the Tap overlap in that both allow me to learn about the interconnectedness of the world's environments and just how much humans affect what's around us. As an environmental science major, I am learning about geology, hydrology, biology and chemistry," Perez said. "Then with TBTT, I apply this knowledge and focus on raising awareness on some of the many environmental issues that exist today."
Beyond Take Back the Tap, Sustainable Campus makes environmental awareness a priority and something students can act on. Program leaders engage the university community in topics such as climate action, waste minimization, food insecurity and sustainability education, and integrate those discussions and efforts into the academic routine.
Perez notes that she has worked with a variety of students, majors from biology all the way to Italian, as a member of Sustainable Campus.
"We are able to come from varying backgrounds and unite under the goal of empowering our campus to make a positive impact on the global environment for future generations," she said.
Sustainable Campus traces its roots to work done in 2004 to expand recycling on campus, but it wasn't officially created until six years later. In a near-decade of existence, Sustainable Campus has expanded to include seven student-run interdisciplinary programs all centered around the mission of making Florida State a green and environmentally conscientious university: Eco-Reps, Food Recovery Network, Garnet & Gold Goes Green, Green Office Certification, reCycle Bike, Seminole Organic Garden and Take Back the Tap.
Cyndel Brunell, a program coordinator for Sustainable Campus, further explains the interdisciplinary qualities of the program.
"When most people think of sustainability, they think of the environmental components such as recycling, what they do not think of is the social and economic impacts that are intrinsically tied to sustainability work," Brunell said. "We cannot separate sustainability neatly into a category of its own, it does not exist in a vacuum. Everything we do every day is [about] sustainability, whether we choose to see it that way or not."
The United Nations observes World Water Day each year and Take Back the Tap commemorated the observance early, highlighting local ways to conserve water and inform others in the community. It was held as a pre-Spring Break World Water Day event in March, on Landis Green.
World Water Day highlights the importance of freshwater and emphasizes human rights issues surrounding access to it. The observance day and celebration stress the need to ensure water remains a renewable resource despite climate change issues. The 2019 theme is "leaving no one behind," an extension of the UN's statement that "whoever you are, wherever you are, water is your human right."
FSU celebrated on Landis Green with activities, prizes, pizza and guests including the City of Tallahassee Utilities water truck. Students shared why they chose to reuse and learned reasons why and ways to keep doing so.
"The most exciting thing about the Take Back the Tap for me is just the ability I have to be able to take the knowledge I have and share them with others who are not aware. I try to engage, educate and empower," Perez said.
Aside from celebrating World Water Day, faculty, staff and students can remain engaged in Take Back the Tap and Sustainable campus. Utilizing the 85-plus hydration stations across campus, getting registered student organizations eco-certified and working with TBTT to ensure future events are environmentally friendly are just a few ways to stay involved.
"We are continually doing programming and looking for volunteers," Brunell said. "We have great ServScript [FSU's system for recording community service hours on student's official transcripts] opportunities for students looking for hours. We are a passionate group of people that want to share what we love with the world, an no matter what you are interested in, there is a way you can join Sustainable Campus."
Gabriella Paez is a FSU senior majoring in English with a concentration in editing, writing and media.